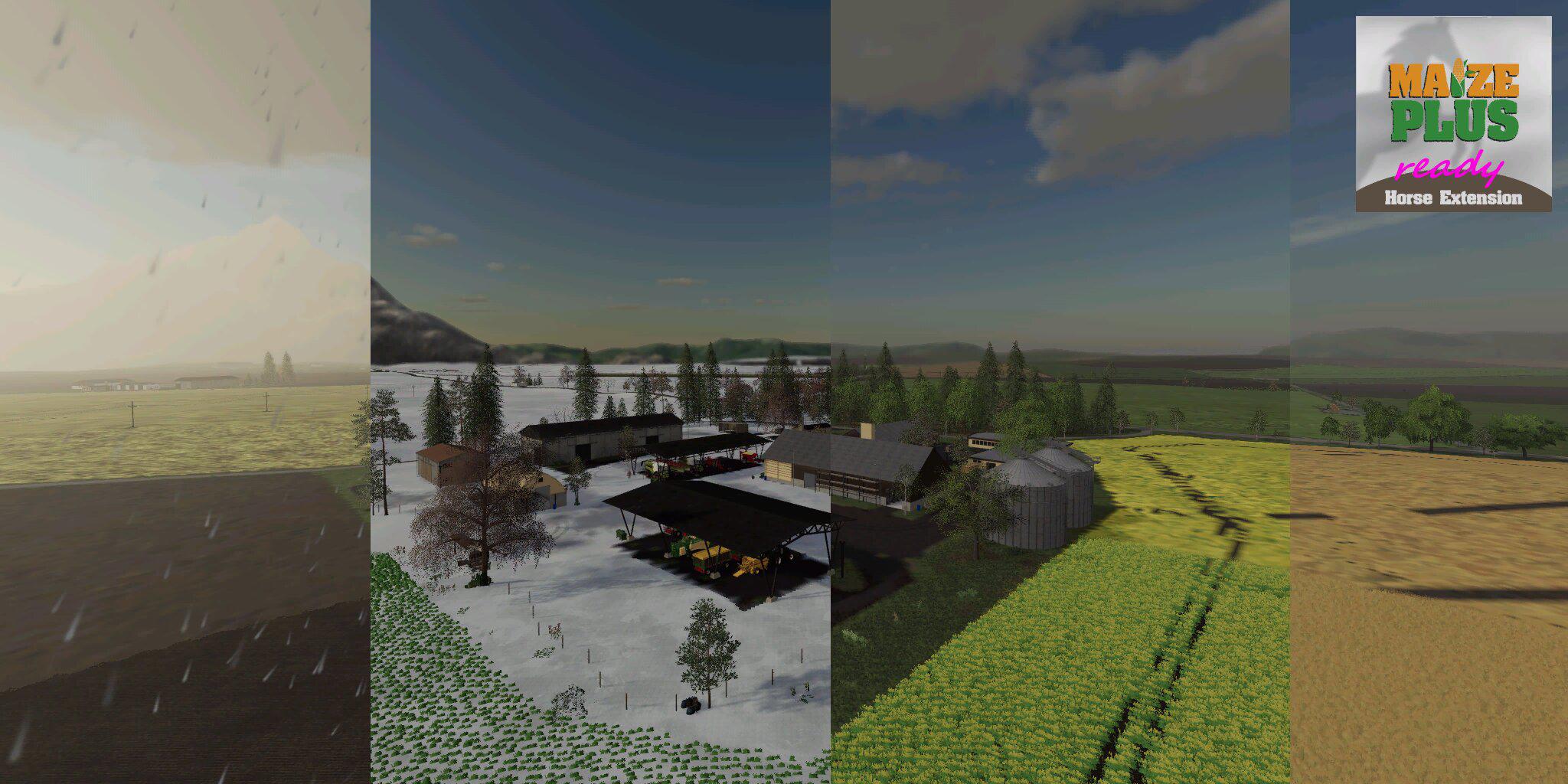 It is a conversion of the Thüringer Höhe by MaxWild.
It is my first map modification, please understand.
I am grateful for constructive criticism.
(Due to so many changes, a new save is required!)
The conversion contains the following innovations:
– MaisPlus, HorseExtension ready
– New fruits added "Onions, carrots, clover, field grass" harvesters and balers etc. are all included in the map. Thank you the F / A and the Alien Paul
– Increase in desnsityHightTypes 128
– Increase in FruitTypes to 64
– Map supports Manure-Mod (Wobster)
– Fixed trees on the streets, fields and meadows
– Pig farm replaced
– Various spawn points have been moved
– Changed milk price
– Fixed cleaning the cows
– Bale sale added mod from Dorset
– Eliminates errors caused by bushes and grass
– New grass textures (cut grass texture / distance, etc.)
– Grass is now fertilized, limed and plowed from the start
– Custom soil textures
– Fields from small to medium and large
– Livestock dealer sales point, animal menu added
– New missions added, ball mission (grass)
– Mission vehicles edited
– Fields numbered consecutively
– Elky Script inserted placeable mud
– added placeable bushes
– BetterLights added by SanAndreas
– automatically added wash hall by SanAndreas
– Manure shaft inserted at various points by Ls17ProjektMecklenburg
– Forests separated from fields
This version comes with standard GPS, and mission vehicles also have it installed.
Thank you very much for the support of all modders and for the releases of the mods.
Special thanks to MaxWild for the map, The Alien Paul and the F / A for installing Mais Plus and Horse Extension, Elky for the scripts, San Andreas for the mods and support.
If I have forgotten someone, please write to me.
I hope you all like this map.
Folgende Mods werden benötigt.
Slurry Shaft
Better Lights
Carwash – HoT online Team
MaizePlus Forage Extension
MaizePlus
MaizePlus CCM Extension
Credits:
Lahmi
Download THURINGER HOHE STANDARD EDITION OHNE GUIDANCE STEERING map