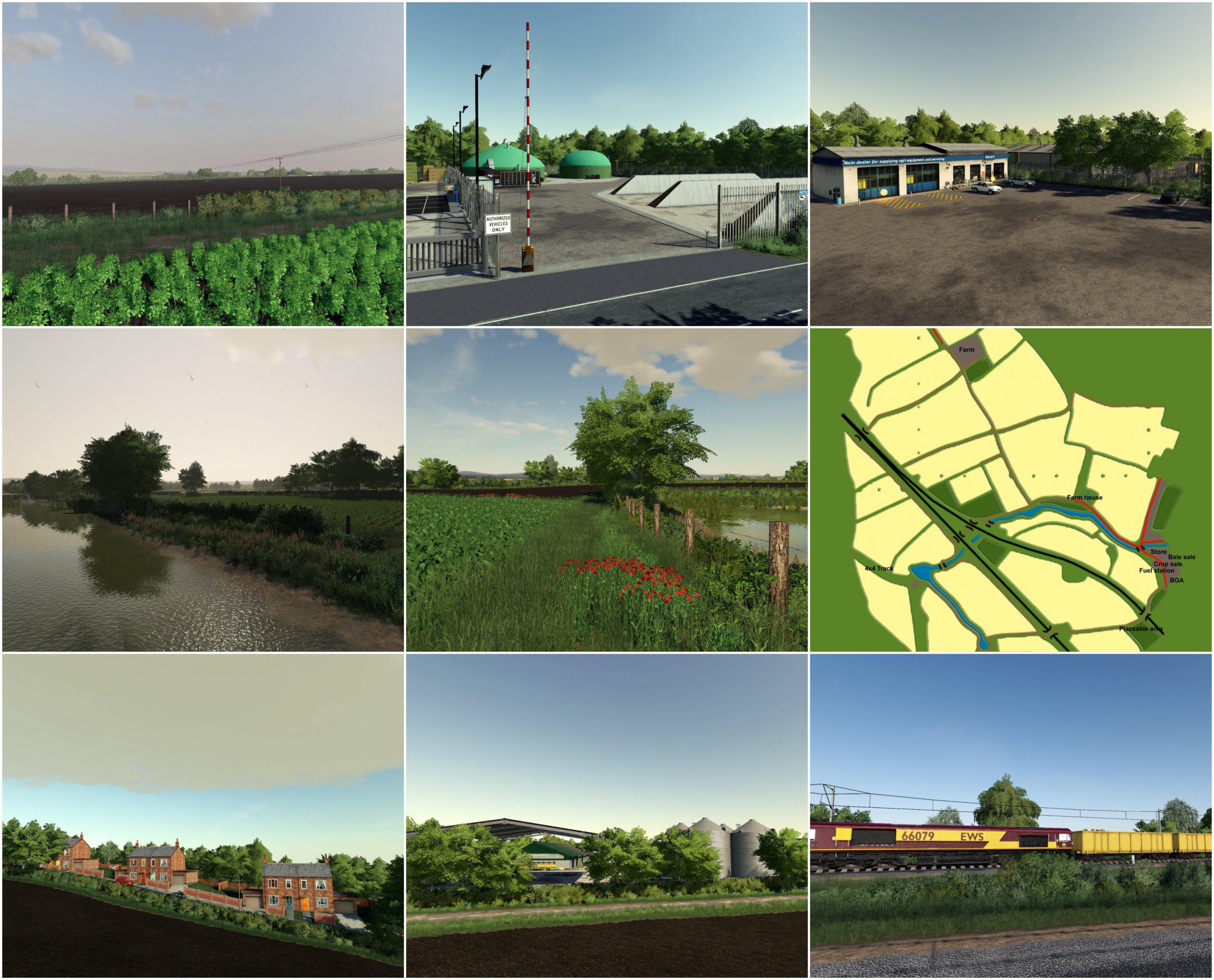 Real life background
Knuston farm is a fully arable piece of farm land situated on the Northamptonshire Bedfordshire border, Knuston farm is owned by a family titled Old&Sons, they own their own land and do a large amount of contracting work. the majority of their equipment is John Deere and they tend to use New Holland for combines, they have a large self Knight sprayer and most of the equipment for working the land is around 5m to 6m. The fields around Knuston farm vary in size from medium to large and are mostly arable bar some grass fields for silage. The closest places that are around Knuston farm are the villages and towns of Rushden, Wymington and Irchester.
Game map Introduction
This map has been designed with realism in mind and for that reason along with time constraints towards real life, this map there for is 100% an arable map, the map is of complete scale and layout, though I have exaggerated the stream to a river and the village layout is not exact. Due to the lack of features I have tried to make up for it in detail, I have spent a huge amount of hours making sure the map looks great while keeping game optimization as controlled as best as I can/ a fine balance.
What we got..
– Everything across the map has been designed as fixed items not placeable or being able to be sold, there is a small piece of land laid bare for horses and or dogs.
– You have 24 good sized fields for arable use and grass if you so wish to plant, I painstakingly created field def's for all fields so the land that's not in use will show with other crops.
– You have 9 farm land locations across the map of which 1 is already pre-owned again I have done this nicely and used layer 63 (non purchasable land) on areas that are of no use.
– Knuston farm, its a little different this time, larger and very modern but well laid out and good functionality from tip sheds, triggers and storage sheds.
– Off from the main road and signposted is a lovely 4×4 track for when you get bored and want to have a little fun, the track is off good size with some steep slopes and long rolling drops as well as being tight and twisty.
– In the village of Wymington you have all the necessary selling points you may need to operate the map. I have added realistic branded selling points, Norfolk straw products to sell your bales, LBS horticultural sales to sell all farm produce grown off the land.
– A neat and tidy BGA set in the same industrial estate along with a Shell fuel station across the road with fixed working jet wash, cash machine and a fuel trigger.
– A large area of the map is taken up by the railway line which in real life is currently going under electrification, this time around i have added the electric pylons in and edited a train in that's electric as well as the diesel. We have a class 222 in East Midlands trains, The new class 800 Hitachi train and the freight train from the previous version of Knuston.
– There are a few static areas to the village, these include a church, a pub, a water tower and various houses.
I have to stress
This map is an arable map out of choice not of error, the decision is down to a few factors, real life layout, real life time constraints and personal choice. The map has been tested and seems well, but there maybe bugs still within the map and anything found needs to be brought up so I can fix as soon as possible.
Ultimately enjoy the map, P.S. the maps great for multiplayer use.
Credits:
Map maker:
Peter (Petorious)
Map testers:
Petorious
Benji
JamesS
Robbie
Alex_660
Tom6155R
Shae_7740
Cam135
Timm
Serjoe
Map objects:
Giants
Faitan
NI Modding
VertexDesign
BulletBill
Mappers Paradise
Oxygendavid
Dorset
Robbie
this_is_gav
Eribus