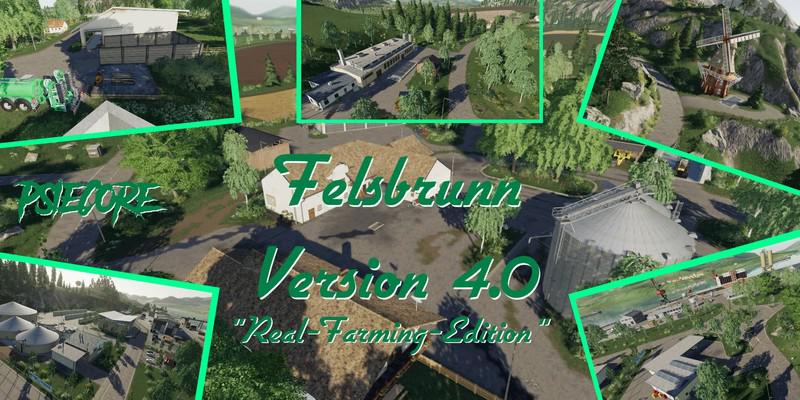 Um die Bilder größer zu sehen – bitte draufklicken.
Changelogs Version 4.0:
– slurry storage at field 20
– Chicken coop installed in the main courtyard
– Nearby guardrails changed and driveway a bit wider
– Added decoration between many fields
– Many field entries processed or newly added
– BGA redesigned (more green and sapling)
– Mill added as a point of sale
– new point of sale where the construction site was
– Spwanpunkt fixed the guell purchase
– Houses / buildings placed as decoration
– Workshop upstairs at the harbor
– Diner installed as a decoration
Version 3.2
– NEW SAVEGAME NEEDED!
– Farmlands now correctly assigned so that different plots can be purchased
– Point of sale for wood down in the city added for the lower Forsthof
– Multifruit FarmSilo bug fixed, new fruit types and fill volume changed
– New Placeable Buildings installed on all yards (included in map and available for purchase in the shop)
– Main courtyard completely redesigned with large cowshed (up to 500 cows), 2 Keilfahrsilos, shelters and hall
– chicken coop removed (never use it and find the handling of the boxes still pretty stupid solved)
– Third entrance and exit at the main courtyard behind the cowshed to shorten driveways
– Removed straw storage and built a workshop and gas station on the premises
– New stables designed near the riding arena
– Travel points created in different places on the map to visit this
– Dairy down in the city (former football field) for sale of milk
– Manure purchase added near East Station in front of the railway tracks (for the organic farmers who want to fertilize the same with manure)
– Access to field 5 added (missing from Giants)
– new farm at field 15 added to pigsty with plenty of space for placeable for free development
– Contractor farm in the northeast now individually purchasable and also redecorated with other workshop etc.
– Added more forest in fields 4 and 5
– Field 27 removes, is now a fertilizable meadow
– Fence extended to box 19
– Added a lot of new trees and deco greens / bushes
– In the FarmSilo is already some straw, hay, silage, compound feed, etc. to start
– adapted PDA
Changelogs Version 3.0:
– NEUES SAVEGAME NÖTIG!!! Zu viel Teraforming und Gräser/Büsche neu dazu gekommen!!!
– Startfuhrpark verkleinert und angepasst für eine realistischen Start
– PDA angepasst
– Unterstände auf dem Hof und bei den Schweinen nun platzierbare Versionen die man verkaufen kann
– Betriebshof bei Feld 10 verkleinert und neu dekoriert (wirkt abgenutzter)
– Bahnsilo Ost platzierung gefixt
– Gelände mit Heulager gebaut gegenüber vom Haupthof
– Kaufbare Flächen wie bei Original Karte da Update vom Editor zu lange dauert
– Lohnunternehmer Hof Bodentexturen umgestaltet und andere Halle verbaut
– Neuen platzierbaren Unterstand geschaffen aus verkleinertem Standard Shelter
Bugfix in 2.0.2: TrafficColli nun Fehlerfrei da sie fehlte, Unsichtbare Gebäude entfernt, XML-Fehler behoben
NEU in 2.0: Hühnerstall auf dem Haupthof, Feld 20 entfernt, Schafstall über Feld 19 an der Strasse eingepasst,
Schweinegehege bei Feld 10 oberhalb von dem Betriebshof, Kompletter umbau vom Haupthof und Doppel-Fahrsilo hinzugefügt.
Alles mit Gräsern und Büschen ausdekoriert.
Habe bei Feld 10 einen neuen Abstellplatz mit Unterständen und Füllstationen geschaffen der in die Landschaft eingepasst wurde.
Oben bei Feld 4 und 5 habe ich einen Lohnunternehmer Hof geschaffen mit zwei großen Hallen, zwei unterständen, Werkstatt, Waschplatz und Tankstelle.
(Wenn Ihr im Multiplayer den Lohnunternehmer Hof nicht selber spielt müsst Ihr im Savegame die Items.xml bearbeiten und den Index der platzierten Gebäude
auf den anderen Spieler anpassen da er sonst die Tore etc nicht öffnen kann!
Ist leider derzeit nicht anders zu machen dank Giants da alle platzierten Sachen am Anfang dem ersten Spieler zugeteilt werden)
Desweiteren habe ich kleine Gimiks eingebaut wie versteckte alte Autos und eine Baustelle die eine Seitenstrasse unbefahrbar macht 😉
Vieles an Bäumen und Deko am Wegesrand und Feldrand ist dazugekommen da mir die Karte einfach an einigen Stellen zu "leer" aussah.
Ich hoffe dem einen oder anderen gefällt die Map und er hat etwas freude daran 🙂
DIE ZIP MUSS ENTPACKT WERDEN UND IN MODORNDER
Alle Verbauten Gebäude sind enthalten und angepasst.
Credits:
Modell: Giants
Textur: Giants, PsieCore
Script: Giants, PsieCore
Idee / Konzept: Giants, PsieCore
Tester: PsieCore
Sonstige: Fillstations von Rene verbaut, Hallepack von Niggels (VertexDezign) verbaut, MultiSilo von Pandahma verbaut, Reitplatz von pascal_dmbs verbaut, Texturen von Forgotten Plants, Gebäude von Lunchbox
Download Felsbrunn Umbau – Multiplayer fahig map