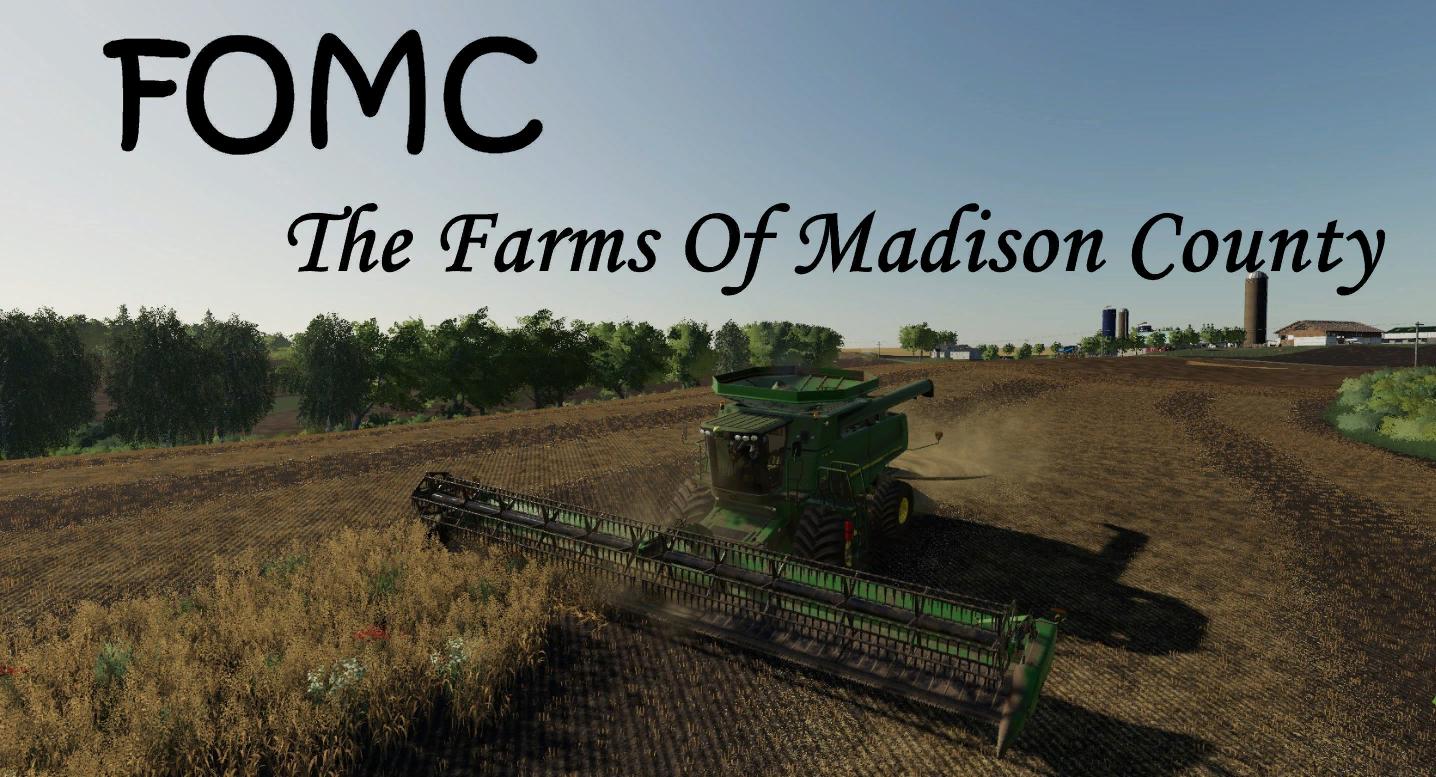 Welcome to Farms of Madison County. This is a real terrain 4X map based in Madison County Illinois a few miles north of the town of Edwardsville. The map is loosely based aroung the early to mid 1990s. This is the area that I grew up farming with my father and grandfather. There is about a half dozen playable farms, several smaller farms, and a couple horse farms.
No matter what level you start at you will have starting equipment ready to go along with a lot of animal husbandries and grain silos. The only thing starting on the low or beginner level will gain you is around a $2 million land tract. There is several individual fields to purchase but most are clumped together in tracts like they were in real life (so a lot of the fields you want you will have to buy the whole farm) There is a 119 fields total all with missions and quite a few of them can be plowed together.
The map is vanilla crops. The terrain varies from flat to rolling prairies, hills, and creek bottoms. There is plenty of trees for people who want to do some logging including large clumps of pines and spruces hidden in some of the forested areas (I hid them in the other trees because they are not there in real life).
You will need to put the map and other two mods in your mods folder to get the best experince. The gates mod is so that the gates show up in the map. The place anywhere mod is only to keep from getting an error. The map works without it but you will get an error in the log. If you try to run the map unzipped in your mods folder you may get some texture issues, just zip it back up when your playing and it should be fine. This is a large map with long boring roads so I highly recommend getting the latest version of CoursePlay at Github or simalar mod.
I have a decent desktop with a Nvidia GeForce Gtx 980 and runs the map well with no frame drops except when I get near large groups of trees with a lot of equipment in one spot.
I would like to thank everyone that either helped me or I borrowed items from to make The Farms Of Madison County, Dorset, ShyWizard, naPalm, Giants, and especially DR modding and their UMRV map and Seth Schultz at Midwest Mapping and his Wonowoc map. And mostly want to thank my son who I have bombarded with questions about computers and issues I have had making this map and my wife who has allowed me the time to do this with out complaing about all the hours I have put into it.
Credits:
Dorset
ShyWizard
napalm
DR Modding
Midwest Mapping
MD Farming
M Franke
Download Farms Of Madison County 4X map